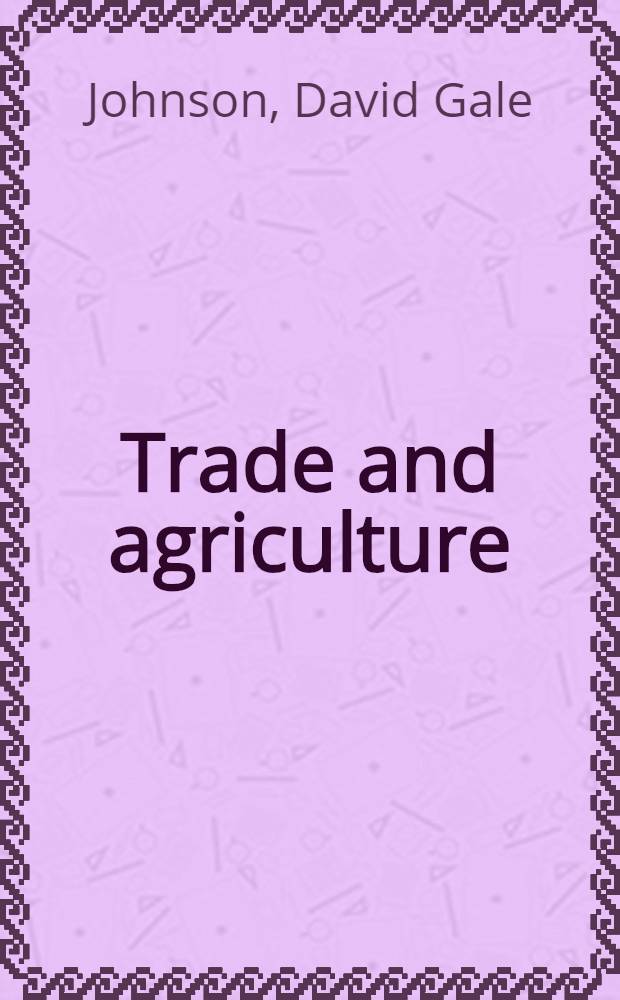 Trade and agriculture : A study of inconsistent policies
Автор:
Johnson David Gale

Описание:
Johnson D. G. Trade and agriculture : A study of inconsistent policies / D. Gale Johnson. - New York ; London : Wiley & sons Chapman & Hall, Cop.1950. - VII, 198 с. ; 22 см
Рубрики:
Торговля → Экономика
Дата создания:
2019-08-02 02:31:29
The Future of Agriculture
A video prepared for the OECD Meeting of Agriculture Ministers 2016, highlighting some of the challenges and opportunities for the global agriculture sector in ...
OECD Trade and Agriculture
Помогите сайту стать лучше, ответьте на несколько вопросов про книгу:
Trade and agriculture : A study of inconsistent policies
Объявление о покупке (разыскивается книга)
Подпишитесь на новые объявления
International Trade and Agriculture: Growing Exports, Jobs and British Columbia
British Columbia is a trade dependent economy with 20% of Gross Domestic Product (GDP) and 1 in 5 jobs created through exports. A new partnership ...
BCPublicService
"A Global Snapshot of International Agriculture" | Delaney Howell | TEDxGooseLake
Delaney Howell takes audience members on a quick trip around the world to get a scope of international agriculture. Tackling topics like trade, infrastructure, ...
TEDx Talks
FAO Policy Series: Trade policy
http://www.fao.org/policy-support Trade has a critical role to play in eradicating global hunger. It has a direct impact on food prices and volumes. Boubaker Ben ...
Food and Agriculture Organization of the United Nations
Trump discusses trade and agriculture
President Trump meets with governors and congressional leaders to discuss issues impacting the agricultural community including trade. Subscribe to The ...
Washington Post
Global Economic Growth And Agriculture Trade: Keynote
Luke Chandler, Chief Economist of Deere & Company speaks about global agriculture and trade. The keynote is part of the Global Economic Growth And ...
University of Nebraska–Lincoln
Five facts about global trade in agriculture in 2019
1. Agricultural trade declined from 4% to -3% That's the first decrease since 2015 US, Mexico and Brazil are among the hardest hit 2. Soybeans reigned as the ...
International Trade Centre
Terms of trade between agriculture and industry
Subject:Economics Paper: Economics of growth and development - II.
Vidya-mitra
Информация от пользователей
Книга находятся в категориях.