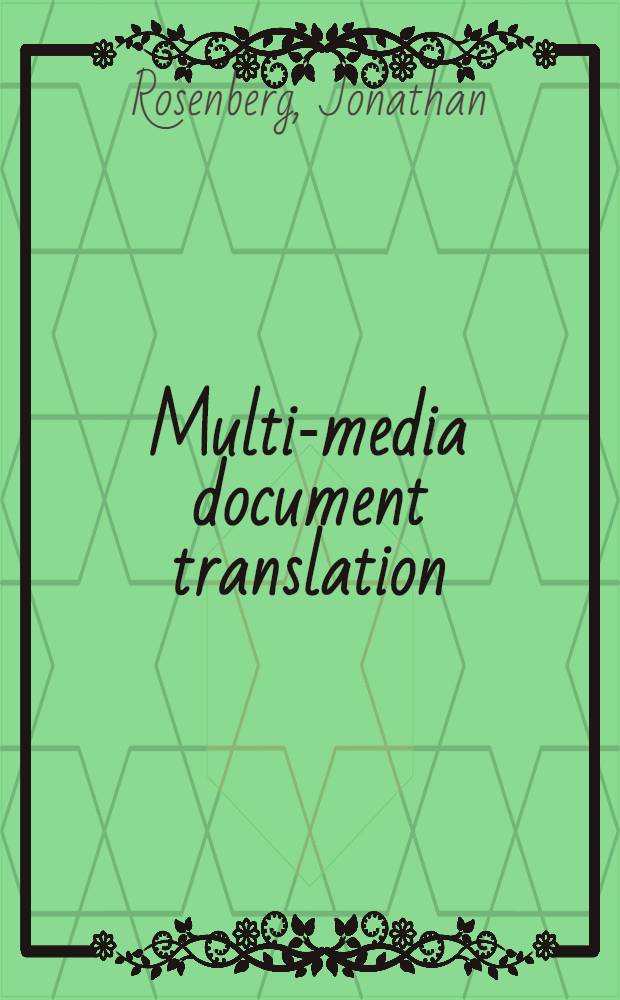 Multi-media document translation : ODA a. the EXPRES project
Авторы:
Rosenberg Jonathan
Sherman Mark
Marks Ann
Akkerhuis Jaap

Описание:
Rosenberg J., Jonathan, Sherman M., Mark, Marks A., Ann, Akkerhuis J., Jaap Multi-media document translation : ODA a. the EXPRES project / Jonathan Rosenberg, Mark Sherman, Ann Marks, Jaap Akkerhuis. - New York etc. : Springer-Verl., Cop.1991. - XXXII, 783 с. : ил. ; 24 см. - Библиогр.: с. 575-580
Рубрики:
Каналы связи → Передача данных → Системы цифровые
Примечания:
Библиогр.: с. 575-580
Дата создания:
2019-12-25 11:12:21
How to Translate PDF to any language PDF document | NOT using Goolge translate | Free Online
Translate JDM PDF user manual into English. Goolge FAILED to create PDF layout. Watch till end to see the whole document translated with intact layout.
SuperSpeed Tech
Помогите сайту стать лучше, ответьте на несколько вопросов про книгу:
Multi-media document translation : ODA a. the EXPRES project
Объявление о покупке (разыскивается книга)
Подпишитесь на новые объявления
Translate Scanned Documents With Pairaphrase ✔ Best Way to Translate a Scanned Document
Learn the best way to translate a scanned document. Get troubleshooting tips for attaining the best quality translation while uploading a scanned document to ...
Pairaphrase
How To Translate Your WordPress Website To Make Multilingual Elementor, Divi, & Beaver Builder Sites
In this WordPress tutorial video, I will show you how to translate your website into a different language to make it multilingual. This will work perfectly with all ...
WPCrafter.com WordPress For Non-Techies
9 exceptionally specialised types of translation
There are 9 types of translation that require very specific expertise way beyond the ability to simply provide an accurate translation. In fact, for most of these the ...
PacTranz
How To Use the Translation Features of Microsoft PowerPoint
Make your presentation slides available to a worldwide audience by using the translation features of Microsoft PowerPoint! This how to video will walk you ...
Microsoft Research
Best Way to Translate & Record Audio in Another Language ✔ For Businesses
Learn the best way to translate and record audio in another language. We'll show you how to generate synthetic voice-overs in 18 common commercial ...
Pairaphrase
Designing Multimedia Instruction to Maximize Learning - Dr. Richard E. Mayer Lecture
Multimedia supplements our instruction in many teaching contexts, whether we use PowerPoint during a face-to-face lecture, a computer-animated game to help ...
University of Kentucky College of Arts & Sciences
Interpreter Breaks Down How Real-Time Translation Works | WIRED
Conference interpreter Barry Slaughter Olsen explains what it's really like to be a professional interpreter. Barry goes behind the scenes of his vocation, breaking ...
WIRED
Информация от пользователей
Книга находятся в категориях.