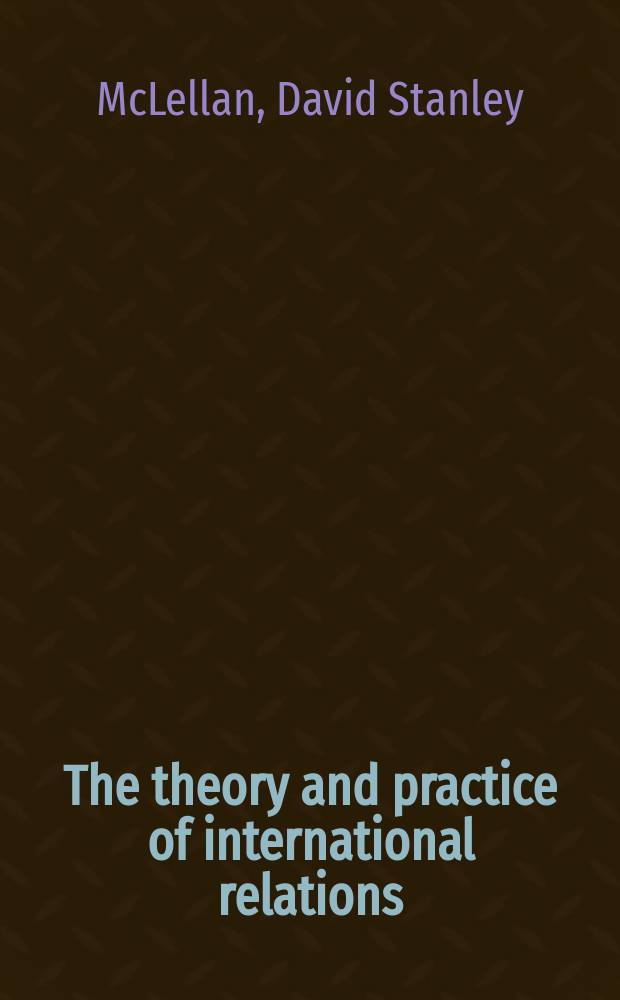 The theory and practice of international relations
Авторы:
McLellan David Stanley
Olson William C.
Sondermann Fred A.

Описание:
McLellan D. S., Olson W. C., Sondermann F. A. The theory and practice of international relations / [By] David S. McLellan ... William C. Olson ... Fred A. Sondermann ... - [2d print.]. - Englewood Cliffs, N. J. : Prentice-Hall, 1961. - XVIII, 542 с. ; 23 см
Рубрики:
Международные отношения → 1945
Дата создания:
2019-10-18 04:47:53
Steve Smith on bringing International Relations theory to life
Professor Sir Steve Smith uses the example of the Syrian civil war to explain how IR theories paint different pictures of reality. For more on applying International ...
Oxford Academic (Oxford University Press)
Помогите сайту стать лучше, ответьте на несколько вопросов про книгу:
The theory and practice of international relations
Объявление о покупке (разыскивается книга)
Подпишитесь на новые объявления
Introduction to International Relations Theory and Practice
Donna Baker
Critical Approaches to International Relations Theory
This video talks of bunch of theories those are Critical in nature in context to that of the traditional theories.
Basics of POLITICAL SCIENCE
Theories of Foreign Policy and International Relations (Part 1/12)
This is part 1/12 of the course "Diplomatic Practice and Foreign Policy Formulation." How there is no theorizing as such on foreign policy formulation, except as ...
School of Public Policy at Central European University
THEORIES OF INTERNATIONAL RELATIONS I - Chapter 8 Summary
Explain the emergence of English School within the theories of international relations Discuss the historical development of the English School from the late ...
Açıköğretim Sistemi - Anadolu Üniversitesi
Political Psychology of International Relations MSc
Our MSc degree is designed for students interested in pursuing studies in this exciting new field at the intersection of political psychology and international ...
University of Birmingham
An Introduction to International Relations: Steven Pickering
In this video Steven Pickering, of the Department of Government explains the meaning and signifigance of information in International relations and questions ...
University of Essex
What is a non-Western IR theory? | Erik Ringmar | TEDxIbnHaldunUniversity
Professor Ringmar stressed out that the academic study of international relations has for far too long been dominated by theories and concepts that originated ...
TEDx Talks
Информация от пользователей
Книга находятся в категориях.